By PG Jonker
Having previously done the Vleesbaai 4×4 route (and in the process causing substantial damage to his vehicle), brother Johnie decided this year's visit to Gouritsmond calls for a different 4×4 route.
[Source:   Map data ©2014 AfriGIS (Pty) Ltd, Google]
After consulting publications on the issue it turned out that the Canca Fynbos Echo 4×4 route is just around the corner from Gouritsmond Caravan Park.
After checking availability we arrived at Kippie Horn's farm at around 11h00 the morning.  We were the only people visiting, and had the route for ourselves.  Kippie took us to the starting point of the route, gave us a route map and some directions, and off we went with the 3.2 liter petrol Landrover Freelander2 automatic.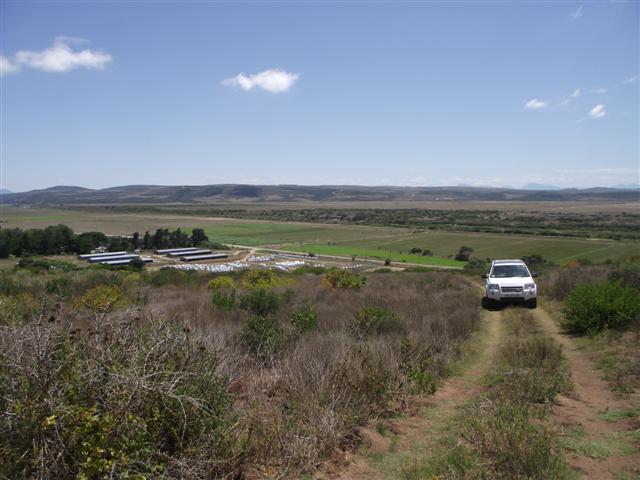 Fynbos mecca
The route sports vast fynbos,
and also reeds (the stuff used for thatched roofs).
The reeds often grow close to roof height of the Freelander.  Some of these were found in the middelmannetjie, causing the driver not to be able to see anything but the one spoor in front of him.
Mind the puff
A short distance into the route we found a rather challenging bit of rock climb that required a bit of scouting around to decide which track is best.  We also saw it fit to re-organize some of the rocks in the road.
For the sake of a good picture I took up position a bit up the road to get a good shot.  At that stage I was not sure whether I should thank or curse Kippie for his parting words:  "just mind the puff adders."
I don't do snakes.  So I treaded very carefully stomping my feet just to alert any lazy bum snake that I am on my way – hoping he or she would perform the ultimate maneuver of self defense and run away.  It seemed to work, as I did not spot any snakes.  Well, not there.
Driving through eye high reeds we had a visit from a funny little gogga that looks just like the reed where he was probably knocked off from.
After taking a picture of him, Johnie gently put him back on a reed.
Where's my mom?
However, only a few yards on, another one appeared.  This one was a bit smaller.  Maybe he came looking for his mom.  He was also duly and gently disposed of and put back on a reed.
The route map supplied by Kippie gave the route, and numbered markers at the various turn off points.  We successfully negotiated the route and turn offs at markers 2 and 3.  I suspect, however, that Kippie's last visitor might have taken his numbered markers as souvenirs, as we did not see any further markers.
Getting lost
Travelling at 20km/h always makes it difficult to judge distance.  However, as we progressed we started to suspect that we missed some markers.  We did end up at dams and some wind pumps.  Although the map do indicate a wind pump, we by that time suspected that we were not on Kippie's farm anymore.  We reached a point where it appeared that the farmer's main crop was wind pumps.  Not all of them in working condition.
We were rather excited to see three Secretary birds on two different occasions.
The one was trotting in the road in front of us, a bit in the style of an ostrich.  We tried to inch closer for a better picture, but then the bird apparently perceived us to be too near for comfort he took off – markedly unlike an ostrich.
Our suspicions that we were not on the 4×4 route anymore appeared to be well founded when, instead of circling back to Kippie's house, we ended up 17km's to the West of the farm at the gravel road that connects Albertinia with the Stilbaai – Gouritsmond road.  By now we were probably a few farms …