Skywalker goes to Bloemfontein
Going on a road trip
The Modern Pentathlon national championships South Africa were held in Bloemfontein in April this year.  Kleinboet made it into the Western Cape team, and I decided to join the lot going up to Bloemfontein.  Just to keep an eye on him.
We made up part of the Boland contingent of the Western Cape team, which in turn were made up to a large extent from the boys of Paul Roos.  We departed early on the Thursday morning with a minibus and trailer from Stellenbosch.  Well, for me half past five in the morning is early, given that I had to leave home before 04h00 that morning to get to Stellenbosch.
We have not even left Stellenbosch when a quietness setlled  down on the bus with everyone asleep.  Except Coenie, of course, which was rather reasonable, given that he was driving the minibus.
There had been a mutual and total misunderstanding by all the athletes as to how the pit stops would work.  At the first post dawn stop just past Worcester, they were advised that this was a 10 minutes loo stop only.  But no, everyone also ordered some takeaways to eat.  The result was that a planned 10 minute stop became a 35 minute stop.
Near De Doorns Coenie's lack of sleep the previous night (and obviously whilst driving too) caught up with him, and he swopped seats with Gerhard.  We managed to not stop at Laingsburg.  Trucks ruled supreme on the road between Laingsburg and Beaufort-West.
As we entered Beaufort-West I noticed that Club Lipstick does not exist anymore.  Not that I ever visited it, but two decades ago we considered it a bit of a landmark on the Southern side of town.  I just knew that this is a snippet of information that the readers of this publication were just dying to know.  We had to take on fuel, so this time the kids were free to take their time.  Which they duly did.  We considered this our lunch stop.
The exercise was repeated at Three sisters.   To our dismay we realised that we had been on the road for close to 7 hours already, and this was only the half way mark.
The upside of modern times is that all kids nowadays have are-we-there-yet deflectors, powered by either MTN, Vodacom or CellC.
That, of course, takes some strain off the driver of the vehicle not having to provide running commentary on the progress being made.
There were not much planning put into fuel stops. As we stopped so often, we just filled up as we went along.   Somehow, though, we got it wrong.  At Colesberg the designated petrol stop was under construction, so we attended the nearby KFC instead.  They did not have unleaded fuel on offer.  Nor any  other fuel, for that matter.  The kids ordered food yet again.  I don't know what it is with them.  If they don't need to pee the need to eat!
With the fuel gauge still sitting comfortably at half, we set off for the last stretch to Bloemfontein.  As dusk approached, though, we realised we are running out of both fuel and towns.  After missing Springfontein South, we managed to get the Springfontein North turn off.  I'm not making this up.  This town with a population of 3699 people, has two entrances, duly marked, and really far apart.
After filling up yet again, we could then set off for the last 140 odd km's knowing we will not run out of fuel. I even allowed my full weight back on the seat.
At 19h07 we reached Bohmer secondary school, where we were to stay in the school res.  The lady on the GPS had some fun first by making us drive right around Böhmer school's residence before allowing us in at the main gate.
After getting everyone settled in, and some showered and cleaned up, we went to the nearby pizza outlet to get dinner.
For the rest of the weekend, most of us were spoilt with good meals at the res, which Coenie had arranged with juffrou Anna.
And that was the end of day one.
Getting ready
On Friday morning Gerhard and Coenie had to go to the airport to fetch one of the team members who flew in from Cape Town.  For reasons that will in due time will become evident, this member will be referred to by a pseudo name to prevent any embarrassment to any parties. And because fiction and facts might have become slightly mixed as far as the tales relating to him is concerned.  Skywalker still attended a maths olympiad the previous evening, hence his inability to travel with the team.
Anyway, Coenie and Gerhard left shortly after six the morning for the airport.  The flight would land halfpast seven. They allowed ample time for Bloemfontein's pre-peak hour traffic.  Bloemfontein she is mos big.  With the plane being delayed, they had lots of time having fun at the airport. Bloemfontein airport is mos also big.
After the plane landed and everyone disembarked, though, Skywalker was nowhere to be found.  After calling in the assistance of security to go check and recheck the plane, Skywalker was found.
Sitting at a table, minding his own business, having a coffee and toasted sandwich, totally oblivious to various search parties sent out to find him.
Team talk
Later, with everyone back at the res, a team meeting was held.  Amongst other things, the purpose being to check everyone's clothing was in order.  That is no small feat.  Modern pentathlon requires you to have swimming gear, running gear, fencing gear, shooting gear, and if you are a senior  participant, also a horse and gear for riding same horse.  Fortunately, though, the horses are normally supplied at the venue, so no need to bring your own.
I digress.  At this briefing it dawned upon Skywalker that he left all his fencing gear at home.  The good news was that he had his speedo and running shoes with him.  As good fortune would have it,  another team member still had to join the team, and he would be departing within the next hour to catch the plane.  Hasty arrangements were made to have the left behind clothing shipped out to Bloemfontein.
Visit to the mall
We did a short visit to the mall just for everyone to stock up on necessities.  Rumour has it that a few boys were spotted staging an impromptu go-cart race with shopping trolleys outside on the parking area.  However, as no misdemeanours had been reported to team management,  we take that to have been the unruly behaviour by some local school boys. That would certainly have been beyond the well behaved crowd that made out the bulk of our team.
The thing with these Paul Roos boys are, nuh, when reprimanded (it does happen seldom, but it does), they are so polite in their response.  "Sorry sir, thank you sir, we will not do it again sir, I'm an idiot, sir."  It's like they've all been sent to some sort of a finishing school where they get taught good manners.  What kind!
Equipment check
The afternoon required attendance at the venue of the event for the checking of clothing and fencing gear.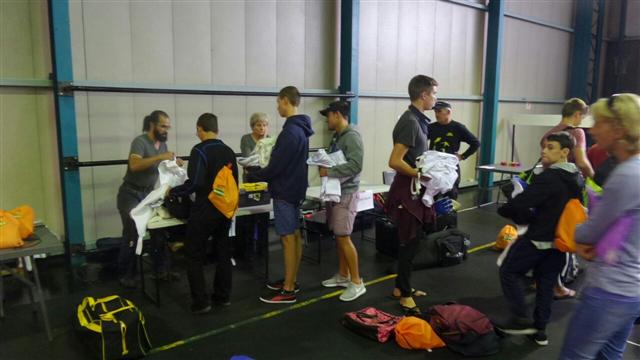 You not only need to have all the stuff, it gets tested to see that everything is in good order, and that the electronic stuff actually works.
They should introduce this principle for some government departments, I'd say.
Whether it is the different athmospheric pressure, boredom or just tiredness, I do not know, but by 20h00 the evening, Kleinboet and I had gone to bed already.  I was lying on my bed, contemplating my growing headache, realising I would need to do something about that.  I sent a mayday message to the crowd who went to eat out and asked that they bring me a coffee when they return, just to adjust my caffeine levels and alleviate the growing headache.
By half past nine I had my coffee.  Gerhard sommer brought me two.  I must say, for that price he should have gone for a sixpack of coffees.  I savoured the moment, lying back in bed and leasurely sipping away on my coffee.  This is life, ek sê.
Just before midnight I got a WhatsApp query from one of Ouboet's friends with a problem.  By that time I was already fighting against the awake, and was happy for the pause from sleeping, and attended to the query.
The day of reckoning
And then it was the day of the event.
I got up just past five, and settled down with the remaining takeaway coffee Gerhard brought the previous evening.  By then it was cooled down substantially, but I'm not particular about my caffeine intake.  I will take it intraveneous if required.  I wonder whether one can do that?
Before leaving for the venue a quick check saw Skywalker being sent back to collect also his running shoes for the running event.  He had all the rest of the prerequisite stuff.  So we thought.
Swimming
I did mention that one of disciplines of pentathlon is swimming, nuh?
Bloemfontein had 150 mm of rain in the preceding week, and night temperatures were down to 11 degrees centigrade.
Upon learning that the swimming event would not only be the first thing in the morning, but also in an open pool, I advised Kleinboet to rather not warm up.  Just jump around a few times, and go do your thing when your whistle goes.  My thinking was that he then only needed to survive the water for less than two minutes, after which we can have him resuscitated and defrosted before the fencing event.
It turned out that they actually managed to get the pool temperature up to 26 degrees.  That's rather impressive, given overnight ambient temperatures.  Even I will swim in that water, and I don't do cold.   So on his own volition Kleinboet actually did his warm-up.
In the event, he even managed to do his personal best time for swimming.  His brain was probably still telling him that the water got to be cold.
After the swimming, we had to rush over to the hall where the fencing and the rest of the events would be.  Amongst other reasons, to wanted to take a team photo before the fencing event came underway.
With pretty much everyone having left the pool, I found Skywalker doing battle getting his clothes into a too small bag.  His clothes seem to have increased in volume while he was swimming.  It is known to happen in Bloemfontein.  The gaping hole that apeared in the bag sent some ominous signals about the future success of getting everything in there.  I took half of his clothes, and we headed for the bus.
After a week of cold and wet weather, the day turned out to be gloriously sunny. For most part of the day.
Fencing
The fencing event came up next.  All dressed up in a hurry for the team picture.  Final checks were done to see that everyone had everything.
Oepsie.  It turned out that Skywalker did not have his name tag, which is compulsory for participation.  A frantic search was launched, but fortunately the name tag was eventually found.  In Skywalker's bag.  So just fix it to the jacket.  Uhm…. ja, well, I don't have safety pins for that.  Anybody with spare safety pins, maybe?
But in fairness, now might be a good time to mention that I later saw Coenie also sporting a handwritten nametag taped to his back.  Only, his said "Coenie" instead of "Skywalker", of course.
Eventually we were ready for the team photo.
And eventually, the event came underway.
No, the guy on the right is not preparing for a kick, he is just getting himself untangled from the bodywire.
The face mask is a rather indispensable part of the equipment.  You don't want to get poked in the eye with an epee.  The epee itself, of course, is just as crucial for this particular sport,  if you would humour me for stating the obvious.
Skywalker entered the arena for the event.  In spite of everyone around him wearing their protective face masks, I'm told he never heard the dreaded words:  "Dude, I'm your father."  Where is Daft Vader when you need him to scare the s***t out of somebody.
I watched as Skywalker's first opponent scored a quick hit against him.  In support of his opponent's abvious flair, Skywalker promptly hit himself in the face with the handle of his epee.  He manage to not knock himself out, which just goes to show how effective the face mask is, and why it is important to wear one.  Unfortunately, he was easily identifiable by the judge based on the name tag on his back.
Lazer run
The subsequent running event combines running with target shooting with a lazer gun.
[Screenshot from the professional photographer's series of pictures.  Unfortunately I cannot credit him because I do not know who he is.  To the unknown photographer.]
I am happy to report that, of all his peers in the Western Cape team, Skywalker was the only one who actually managed to shoot all his targets within the allocated 50 seconds.  That he managed three times in a row.   Take that, you bunch of non-mathematical assholes!  Yeah, I guess one day we might all end up working for Bill Skywalker.
Kleinboet was not pleased with his own performance on the fencing event.  He got beaten by folks he thought he should beat, so his spirits were quite down.  Ironically, the very same people who beat him, only took a few minutes after the event to lift his spirits to pre-fencing levels.
In between, pictures were taken, with Victor making a point of showing his prowess of NOT smiling on a picture EVER.  Stare me kangaroo down, sport, stare me kangaroo down….
End of tournament ceremony
Saturday evening a dinner and prize giving ceremony was held at the botanical gardens in Bloemfontein.  The day rendered a good haul of medals for the Western Cape Team, with the Eastern Cape taking the laurels with the most medals.
[Western Cape team medallists, less one]
The Free staters served us steak and chips (no, really, they do stock cattle in the Free State), and dessert where no sugar had been spared at all.  At all.  They can maar serve those steaks, hierdie Vrystaters!
On the road again
We headed back for Stellenbosch early on Sunday morning.  If you are keen on learning a few new swear words, try packing fencing equipment into the confines of a trailer.  I'm just saying.
This time we put an explicit time limit on stopping times so that we can gain some distance.  This only worked partially.
At Beaufort-West we decided this is where all will have their lunch.  So if you wanted to eat, now was the time to order.
I spotted Skywalker in deep discussion with the lady behind the till in the café.  He took a coffee from the dispensing machine, only to learn at the till that it costs double what he could have ordered coffee for from the Wimpy just 5 paces apart in the same building.
So naturally he engaged with the attendant on the costing model of self-dispensed coffee, as opposed to the price of coffee served by actual humans at the next counter.  Skywalker had a solid point, given also that there was no price on the dispensing machine.  However, his argument might have been better served if addressed to management, rather than the lady behind the till.  I chose to rather not point this out to him at that stage.  In the end, a settlement was reached.  Skywalker would take his coffee, pay the designated price, and buzz off.  Which he duly did, albeit understandably under protest.
Outside, we were entertained by an annoying duo of two locals, the one asking for food, the other for money, both very persistent.  With everyone giving them a wide berth, they had little success.  Until Coenie, the ever gentleman, engaged with the pair.  After dispensing some solid wisdom and advise on the good virtues of hard work, he handed them some of his food.  This was accepted in good grace by the lad who was asking for food, but his mate was unimpressed.  Clearly Coenie did not hear properly.  He wanted money, not food.  Daai man lystir nie, nuh?
Laingsburg was meant to be just a quick last stop. It is then that Skywalker enquired when the plan was to have lunch.  Ever the negotiator, Gerhard advised him that Beaufort-West had been that spot, but for him, we will make it Laingsburg.
And then, eventually, after thirteen hours on the road, we steamed into Stellenbosch.  A lengthy day was had by all.
In closing
It's been a good weekend.  We have seen sportsmanship in action, friendships being forged, battles lost and won, some with more grace than others.  But in the end, sport triumphed.
A huge thanks to Coenie and Gerhard for all the arrangements and hassled they dealt with in the run up to the event, and over the weekend.
Now back to the books, lads.
[Pictures supplied by Gerhard Burger]