Doing the Canca Fynbos 4×4 Eco trail – well, almost…
By PG Jonker
Having previously done the Vleesbaai 4×4 route (and in the process causing substantial damage to his vehicle), brother Johnie decided this year's visit to Gouritsmond calls for a different 4×4 route.
[Source:   Map data ©2014 AfriGIS (Pty) Ltd, Google]
After consulting publications on the issue it turned out that the Canca Fynbos Echo 4×4 route is just around the corner from Gouritsmond Caravan Park.
After checking availability we arrived at Kippie Horn's farm at around 11h00 the morning.  We were the only people visiting, and had the route for ourselves.  Kippie took us to the starting point of the route, gave us a route map and some directions, and off we went with the 3.2 liter petrol Landrover Freelander2 automatic.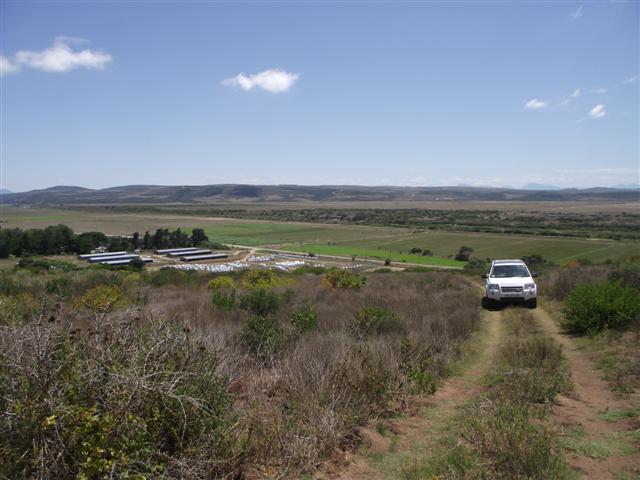 Fynbos mecca
The route sports vast fynbos,
and also reeds (the stuff used for thatched roofs).
The reeds often grow close to roof height of the Freelander.  Some of these were found in the middelmannetjie, causing the driver not to be able to see anything but the one spoor in front of him.
Mind the puff
A short distance into the route we found a rather challenging bit of rock climb that required a bit of scouting around to decide which track is best.  We also saw it fit to re-organize some of the rocks in the road.
For the sake of a good picture I took up position a bit up the road to get a good shot.  At that stage I was not sure whether I should thank or curse Kippie for his parting words:  "just mind the puff adders."
I don't do snakes.  So I treaded very carefully stomping my feet just to alert any lazy bum snake that I am on my way – hoping he or she would perform the ultimate maneuver of self defense and run away.  It seemed to work, as I did not spot any snakes.  Well, not there.
Driving through eye high reeds we had a visit from a funny little gogga that looks just like the reed where he was probably knocked off from.
After taking a picture of him, Johnie gently put him back on a reed.
Where's my mom?
However, only a few yards on, another one appeared.  This one was a bit smaller.  Maybe he came looking for his mom.  He was also duly and gently disposed of and put back on a reed.
The route map supplied by Kippie gave the route, and numbered markers at the various turn off points.  We successfully negotiated the route and turn offs at markers 2 and 3.  I suspect, however, that Kippie's last visitor might have taken his numbered markers as souvenirs, as we did not see any further markers.
Getting lost
Travelling at 20km/h always makes it difficult to judge distance.  However, as we progressed we started to suspect that we missed some markers.  We did end up at dams and some wind pumps.  Although the map do indicate a wind pump, we by that time suspected that we were not on Kippie's farm anymore.  We reached a point where it appeared that the farmer's main crop was wind pumps.  Not all of them in working condition.
We were rather excited to see three Secretary birds on two different occasions.
The one was trotting in the road in front of us, a bit in the style of an ostrich.  We tried to inch closer for a better picture, but then the bird apparently perceived us to be too near for comfort he took off – markedly unlike an ostrich.
Our suspicions that we were not on the 4×4 route anymore appeared to be well founded when, instead of circling back to Kippie's house, we ended up 17km's to the West of the farm at the gravel road that connects Albertinia with the Stilbaai – Gouritsmond road.  By now we were probably a few farms away from where we started!
Now I was thinking:  if we can deviate 14 odd km's over a 3 km stretch of tracks, can you imagine where we may end up if we do an African crossing!
On the road again
We decided not to head back.  For the last probably 14 km's we did not know where we were, and going back the same road would probably not serve any purpose in making things clearer as to our whereabouts.
Heading out on the gravel road we saw a snake passing across the road in front of us.  I was sitting in the car, obviously.  It just goes to show that the stomping of the feet actually worked back on Kippie's farm.  I handed my camera to Johnie and suggested he get out to take a nice picture of the snake.  He declined, citing the fact that he was driving the car as a reason for not wanting to get out.  He suggested that I do it.  It was, of course, a stupid suggestion.  I told him that I'm not really that into snakes and told the snake to hiss off, which it then duly did.
So we took the road and headed for the main gravel road between Stilbaai and Gourits.  We turned left again, now heading for Gourits.
However, shortly after we got on this main road, the GPS indicated a road to Gouritsmond that would take us along the sea.  So we duly turned right there, and followed the GPS's instructions.
Getting lost – again
Eventually the road disappeared.  Sommer just like that.  Unfazed, the GPS indicated that we should not despair and simply proceed on the way as indicated.  But there was not road, zilts, nothing!  We decided against following the instructions of the GPS.  Our experience of navigating on Kippie's farm did not exactly instill confidence in us for our navigational skills.  So instead, we took the next discernable track heading more or less in the direction of the sea.  This road eventually got us to a private residence, in the middle of nowhere.  Rather embarrassed we had no choice but to enter the erf where the house stood to make a u-turn – it was clear that this road also reached its end.
As a courtesy I got out to explain to the owner why we were trespassing on what was clearly private property.  Now imagine how this explanation that sounded like:   "See, it was like this.  We went on a 4×4 trail about 30km's away from here.  We got lost.  So we ended up at your house."  I was at pains to explain in great detail.  I mean, arriving at a holiday home in the absolute middle of nowhere you don't expect the owner to be thrilled by the unannounced arrival of 4 strangers.
I must have sounded a bit like those guys who would knock at my door and tell me that they are on their way from Lutzville the Bellville train station (which road always runs past my house, regardless of where I stay) and that they short a buck or two for the train back to Lutzville.
Anyway, Fernando Tallie humored my explanation, told me how glad he is that we got lost, and invited us in for coffee.  By the time we got to the coffee we learnt that Fernando and his mother tannie Mollie  used to live in Laaiplek many years ago, which is where we also lived at that time.  My 90 year old dad who was with us could immediately pick up some old connections, as could Johnie, resulting in an afternoon reminiscing the old times at Laaiplek, and stuff like how the different trawlers had different engines, each with its own peculiar beat.
This we did whilst sipping away on our Jacobs, on a stoep overlooking the ocean.  An absolute amazing sight.
On the road again – again
Fernando eventually directed us to a short cut back to the main road.  Reaching the main road (that's now the gravel road between Stilbaai and Gourits) we had cell phone reception again.  By that time some frantic messages from my wife on the voice mail indicated some consternation about our disappearance.
I could inform my wife that she could call off the mountain rescue guys.
She was, of course, delighted.
Canca Fynbos Eco 4×4
Contact Details:
Kippie, Rea & Jantjie Horn
Address:
P.O Box 222 • Albertinia • 6695
Tel: 028 745 3332
Fax: 086 690 9936
Cell: 079 883 0666
Cell: 083 261 6342
Email: kipkop@easycoms.co.za
Website: http://www.4x4ineden.co.za
It is on the R325 running from the N2 to Gouritsmond, about 22km's from Albertinia, 13km from Gouritsmond.