Friday, 6 April
Departure from Boulderbaai
Unfortunately we were not able to book Boulderbaai for the full duration of our stay.  We only had it for one night.  So, on day two we have to pack up and move camp to Varswaterbaai.
We awoke to a wet Namakwaland.  A few showers fell during the night (huge drops, but fortunately not much of it), and everything is wet.  As it is still overcast, however, it was clear that it will take the whole day if we wish to wait for the tents to become sufficiently dried out to pack it up.
It takes a while for the whole group to be packed up and ready to go.
The amenities at the campsites are basic roofless longdrop toilets serve to fulfil the bare needs.  It sports proper toilet seats, nogal.  However, in the nature of longdrops, it does become tiresome keeping your lips tightly sealed together for the duration of the visit to the amenity.  And one should also not make the mistake of holding your breath until you hear the ……  aag, nevermind.
SpoegrivierGrotte  –  again
By 11h30 we depart.  First we head north for the Spoegriver Caves for the benefit of those who arrive too late yesterday to go and have a look.
Just before one descends down to the caves you can see the Spoegrivier mouth in the distance.
It is Easter Friday.  Our in-house co-travelling minister of religion does a short sermon and we have communion.
One tends to concentrate on the face of the cave, whereas there are some other interesting rock formations if you care to just walk around the cave a bit.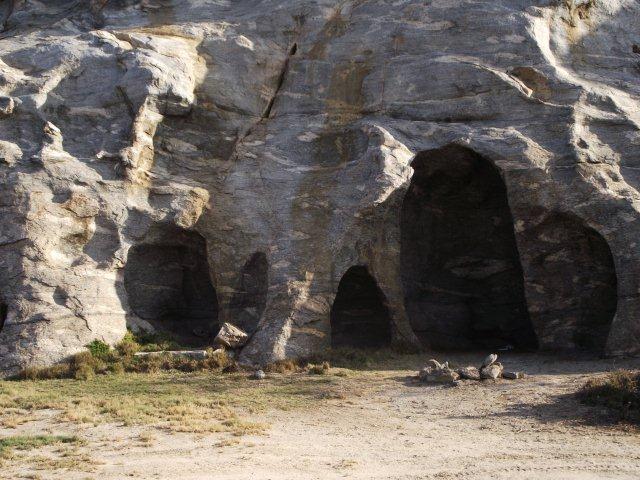 This Toktokkie had a bad day.  It seems like he was kidnapped by the ants and taken to their home.
[Part 3 to follow]
PG Jonker…