Namibia – Part 2
[Adapted version hereof published in Leisure Wheels, November 2010.]
[Source: Map data ©2014 AfriGIS (Pty) Ltd, Google]
By PG Jonker
Waterberg to Etosha
Waterberg
The facilities at the Waterberg outside Okakarara are very good, with warm water and electricity.  We find it a bit difficult to figure out which braai area belongs to which campsite.  Judging from the somewhat perturbed "and where must we now braai?" from our neighbours upon returning from a drive, I believe we, in fact, inadvertently took over their braai area in their absence. 
The Herero lady who helps us at the reception desk quickly changes over to Afrikaans after flinching in response to my English endeavours.  She is just as comfortable, though, assisting the overseas visitor waiting next to me in English.  The German speaking gentleman on my other side also enjoys the courtesy of being served in German.
At a later stage during our stay our paths crosses hers, and she volunteers to take us on a guided tour through the history of the old buildings.  She is a true ambassador not only for the Parks authorities, but also for Namibia.
In August 1904 the Battle of Waterberg took place between the Germans and the Hereros.  The Hereros escaped, but their retreat into the desert led to their near extinction at that time.
The old building at the Park that now hosts a restaurant used to be the police station in 1904.
Etosha
Our next port of call is Etosha.
Within 5 minutes of us entering the Etosha we stop at a water hole where we see a great many species of animals.  Gemsbok, Springbok, Vlakvark, Giraffe, Zebra, Blouwildebees, Kudu, Black nose-impala's, jackal.  A herd of elephants lingers on the side.  Later they approach the water hole and chase all the animals out and take over the water hole.  Then a large bull comes strolling along and chases all the animals away.  Now he has the water hole for himself.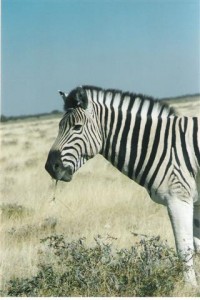 After reporting at Okaukujo we drive out to Halali where we will set up camp.  Lonely Planet's book describes the campsite as a dust heap.  Quite right, they are.  [I should remind the reader that this tour was many years ago – things might have changed since].
That night at the water hole we sit in awe and watch as three rhino's come for a drink.  Ever so often one would hear a soft appreciative "aaahh" from someone.  It is a serene and sacred atmosphere.  Until the silence is ripped apart by a five year old boy who, like Shreck, appears to have been born under the star sign of the flatulent.  It was not as loud so as to disturb the rhino's, but pretty much everyone else heard it.  Nobody says anything, but after the initial shock, it appears as though everyone is sitting in a bus driving on a corrugated road.  Bodies shake, but everyone tries not to laugh out loud, until, eventually, everyone laughs, except for a little boy and his mother.  Sacred moments, I'm telling you.
Lion hunt
On a game drive with the family, I inadvertently drive right into a lion hunt.  We spot a large male lion just left of the road behind us.  I reverse with the Venture to get a better view.  The next thing the lion gets up, and starts to run right at the Venture.  I watched in shock, for the moment not sure what's happening.  But the lion runs past us, and only then do we notice a small herd of black nose impalas [well, that's what it looked like judging from the manual] coming from the opposite direction, unaware of the lion.  At a distance we can make out a number of female lions on the far side of the antelopes.
The male lion aims for the nearest of the antelopes, but we have thwarted his endeavours.  It is clear that the antelopes also realise that the lion is not going to make it to them in time, because they trot away with no visible indication of alarm.
When everything quiets down I remember my camera is still in the bag.  I grab the camera and take a picture of the lion; however, all that remains visible of him is his rear end.
 Frikkie and his coil
I had myself talked into driving up to Epupa falls by a colleague of mine.  Collin decides to join us, but Frikkie and his family decide to rather stay in Etosha for a few days longer.  We will meet up with them again at Long Beach.
Our ways part when the two families heading for Epupa swings west from Halali, while Frikkie and his family heads east for a game drive.  Then, 4kms later, Frikkie's Hilux comes to a dead stop.  Now this is the kind of thing that will truly spoil my holiday.  Frikkie, on the other hand, thrives on challenges such as this one.
A friendly holiday maker tows Frikkie back to Halali.  A qualified mechanic joins Frikkie in his search for the gremlin.  They decide the offending part is the coil.  Just to make sure they need a similar coil to test on Frikkie's bakkie.  No problem, just find another Toyota Hilux.  Frikkie finds a similar bakkie in the camp and trace the owner thereof as one of the waiters working in the restaurant.  Taking the coil on a loan and testing it on Frikkie's bakkie confirms the coil to be the problem.  Frikkie offers to buy the waiter's coil, but for obvious reasons this gentleman is disinclined to this transaction.  Eventually they agree that Frikkie will rent his coil for R100 to enable him to drive to the nearest town in search of a replacement coil.  With one of his kids being ill, Frikkie leaves the family at Halali and sets off for Tsumeb.  Not even a herd of some 20 elephants amuses Frikkie, he's got more important things to be concerned about.
At Tsumeb he finds a yard with a number of stock cars.  After some negotiations he buys a coil off one of the stock cars, and heads back for Halali.  Relieved to be back at Halali after a day on the road, Frikkie finds his family eagerly awaiting his return, ready to go for a drive.
Part 3 to follow
PGJ