Part 3 – Vic Falls and Livingstone
[Also in Afrikaans @ http://pgjonker.co.za/?p=144]
BOTSWANA & ZAMBIA TOUR 2008
PART 3
(by PG Jonker)
Vic Falls
The Smoke that Thunders.  Indeed.  No picture that I have seen of the Victoria Falls could prepare me for this majestic sight.   It simply defies description.  I will not even endeavour to do so.  I simply do not have the linguistic skills to do justice to this.
The rented poncho's and jiffy bags to keep cameras dry are essentials for this outing.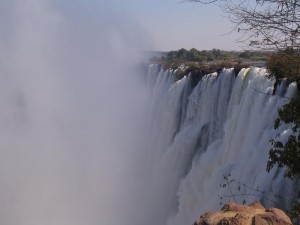 Also, if you have a six-year old with you, the thunder that the name alludes to will probably scare the living daylights out of him.  I had to hightale it from under the mist and thunder with Chris-Jan, my six year old, as it left him panic stricken. 
Sales Talk
The Victoria Falls in itself is something really awesome.  No, majestic, even sacred.  No picture can really prepare you for this sight.  I would assume that professional writers would be able to put in words what I'm trying to say, but I'm afraid the above is as good as I can get.
So it's somewhat easier to rather relate some of the more mundane side shows that I have experienced.  Well, it felt more like I have fallen victim to one of these mundane sideshows, so let me enlighten you about, and warn you against, the extreme sales acumen of some of the locals at Vic Falls.
At the entrance to the falls you find the usual craft market where you can buy stuff that you do not want.  So I decided to go on a little reconnoitre of my own to see what there is with the idea to take my kids there later.  I want to be forewarned of what there is to be found, hence the prior recce.
Big mistake.  Now take heed of good advice.  Do not come near that place.  Do not make eye contact with any of the vendors.  Do not appear to show any interest.  Do not enter the vendor's stall.  And above all, do not allow the guy to sit you down for a chat!
Isaac explains very nicely to me all his wares on display.  So I explain to Isaac that I'm just looking.  So Isaac then explains to me: "I'm from Zambia, you from South Africa, we're from the same continent, I give you a good deal." So I explain again to Isaac I'm not buying, I don't want a good or a bad deal, I want no deal at all.  Isaac says he understands completely, but just look, here we have the king and the queen of some or other tribe, carved from wood, he proceeds without missing a beat.  Very exotic.  Yes, I understand, but I don't want to buy anything.  Now because we are from the same continent, Isaac proceeds unfazed, he will give me this very special deal of US$50 for this very cool set of two sculptures.  So very patiently I explain again that I'm just looking, I'll be back later.  Then Isaac introduces me not only to the king and queen, but also to the son and daughter of said king and queen, carved from this very special wood that you only find in Zambia.
Now there comes a time when one has to admit defeat.  It was now inescapably clear to me that Isaac does not understand what I'm telling him, so I decide it's time to leave, rather than to be rude.  From a semi-squatting position I try to extract myself from Isaac's stall, to which Isaac props up one of his little stools underneath me.  I'm not quite sure how this happened, but the next thing I'm sitting instead of leaving, with Isaac facing me on a similar stool.
Now that's much better, reckons Isaac.  This is our custom to negotiate like this, he explains, and proceeds to introduce me to the rest of the king and queen's extended family.  By now I am getting seriously concerned.  I mean, this king and queen are breeding as we speak, and there seems to be no end in sight!  I better get out of here.
But Isaac is now getting in the swing of things, explaining to me the rules of the game.  See, he made an opening offer of a mere US$50 for this set of sculptures, but because we are mos now from the same continent he is open for negotiations.  I mean, it's like Isaac and me are blood brothers, so close we are since we are from the same continent. Oh, and as a special gift he will also wrap this set up nicely for me in last week's newspaper, all because we are from the same continent.  All I need to do, is to come with a counter offer, says Isaac.  I can trade with money, t-shirts, shoes, anything, he says.  "You just offer me anything, anything, then we negotiate."  
By this time I am more inclined to tell Isaac that he must be out of his mind if he thinks I'm going to pay him close on R400 for these two stupid sculptures!  But I explain very politely that I do not want to offend him, but I thought more along the lines of US$2 for these two sculptures.  Well, actually I thought I want nothing at all, but I have now given up on explaining that to Isaac.  I can see he does not quite understand that part of my explanation.  In any event, the fact that he is willing to trade in old shoes or a t-shirt just to make the sale also leaves me with a feeling that I cannot buy nothing from him.  There is desperateness (not desperation) in making this sale, but without an attitude of self pity.  To the contrary.  If anything, I was the one with the jannie-jammergat attitude, not Isaac.
Anyway, in the end I pay Isaac US$10 and a Coke for the king and queen of wooden Toyland. Hau, that Isaac, he is very good!
And then, when I presented these very special gifts with all my love to my wife, she accused me of having been bamboozled by Isaac.  Whereas I thought I did rather well.
The rest of Livingstone
 The well stocked Spar could fulfil all our immediate needs.  However, when the lady at the till rang up the final amount my wife's eyes became the epitomise of shock.  However, ZKW133 090 turned out to be a rather digestible R330.
That evening we have dinner at the Ocean Basket.  We park our vehicles in a fenced off area where a security guard is on duty. 
Once again it requires a bit of calculation just to ascertain the prices on the menu.  The prices are a fair bit higher than you can expect to pay in South Africa.   Three members of my family are not feeling too well, following a hamburger lunch earlier the day.  They retire to the bakkie where they go to sleep, waiting for the rest of the crowd to finish. 
 My son goes out to check that they are all right and reports back that everything is quiet.  Everyone is asleep, including the security guard, who is sitting next to the bakkie.
 Continue in Part 4